Dialektika: Jurnal Pemikiran Islam dan Ilmu Sosial is a scientific research journal that focuses on socio-religious studies (Islamic traditions, local wisdom, and inter-religious studies). This journal welcomes scholars to submit their papers based on academic research, both field and literature research. In particular, the papers may consider the following perspectives: 1) sociology of religions, 2) anthropology of religions, 3) religious tradition, 4) theology, 5) philosophy of religions, 6) history of religions, 7) religious art, and 8) religious law. Its publishes twice in every volume (June and December). The editorial team of the journal warmly welcomes contributions from scholars and researchers of many disciplines. Dialektika: Jurnal Pemikiran Islam dan Ilmu Sosial has been accredited as a scientific journal by The Ministry of Education and Culture, the Republic of Indonesia, on the 5th level (SINTA 5).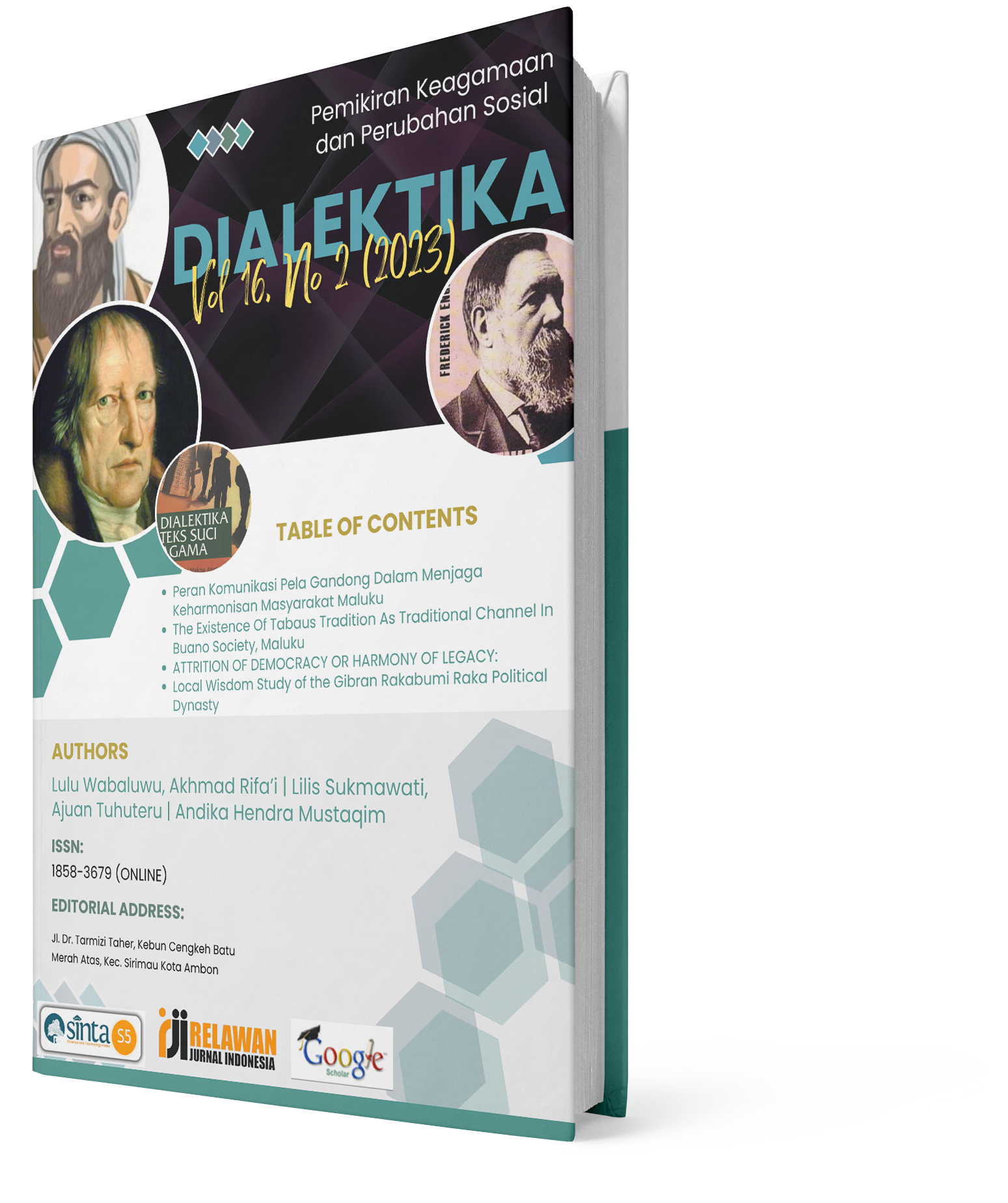 Announcements
Call for Paper

Dialektika: Jurnal Pemikiran Islam dan Ilmu Sosial invites all researchers, lecturers, teachers, graduate, postgraduate students, and doctoral candidate to participate in writing an papers at this journal. Currently we are waiting the new papers submission for the upcoming issues:

Volume 15, Issue 2, December 2022 (Submission Deadline at December 1th, 2022)

---

 

Posted: 2022-09-25
Vol 15, No 2 (2022): Pemikiran Islam dan Ilmu Sosial
Edisi pada Volume 15 Nomor 2 Tahun 2022 mengusung sub tema perubahan pola keberagamaan di Era Digital dan juga respon atas pandemic COVID-19 yang disebutkan sebagai fenomena non-manusia yang berdampak pada silaturrahmi kolektif dalam tradisi awat. Sementara artikel yang lain membahas dampak yuridis atas UU No.3 tentang Ibu Kota Negara dalam pendekatan demokrasi di Indonesia dan artikel yang membahas peran misi katolik dalam terbentuknya Kaun Cendekiawan di NTT. Keseluruhan artikel dalam edisi ini telah memperlihatkan sumbangsih pemikiran bagi kemajuan ilmu pengetahuan, teknologi, dan kemanusiaan yang menunjukkan pola respon terhadap berbagai dampak perubahan sosial yang sangat cepat, luas dan kompleks. 
Table of Contents
Articles