Jurnal Online Institut Agama Islam Negeri (IAIN) Ambon adalah sistem penerbitan online berbasis Open Journal System
A B C D E F G H I J K L M N O P Q R S T U V W X Y Z All
MANGENTE: JURNAL PENGABDIAN KEPADA MASYARAKAT
Mangente: Jurnal Pengabdian Kepada Masyarakat diterbitkan oleh LP2M IAIN Ambon. Jurnal ini memiliki fokus utama pada pengembangan ilmu-ilmu di bidang Pengabdian kepada Masyarakat (PkM) berbasis Multikultural, PkM berbasis Pembinaan Lingkar Kampus, PkM berbasis Peningkatan Kualitas Guru dan Tendik, PkM berbasis Pemberdayaan Potensi Ekonomi, PkM berbasis Pemberdayaan Potensi Keagamaan, PkM berbasis Gender dan Anak, PkM berbasis Keislaman, PkM berbasis Majelis Ta'lim, PkM berbasis Pembinaan Keluarga Sakinah, PkM berbasis Lingkungan Hidup, Kesehatan Dan Penanggulangan Bencana, PkM berbasis Pengasuhan Akhlak Mahasiswa, PkM Peningkatan Kualitas Mahasiswa, PkM berbasis Pengentasan Kemiskinan, PkM berbasis Peningkatan Kompetensi, PkM berbasis Peningkatan Sumber Daya Manusia, PkM berbasis Produk yang berdaya saing lokal/nasional, PkM berbasis teknologi tepat guna, PkM berbasis Seni dan Budaya, PkM berbasis Keilmuan.
View Journal | Current Issue | Register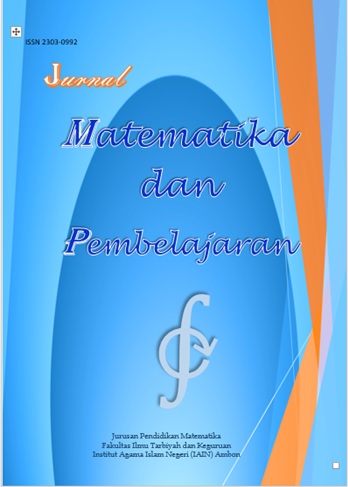 MATEMATIKA DAN PEMBELAJARAN
Jurnal Matematika dan Pembelajaran is an academic journal, publishing two issues per year (June and December). It is published by Lembaga Penelitian dan Pengabdian Masyarakat of Institut Agama Islam Negeri (IAIN) Ambon, Indonesia and collaboration with Asosiasi Dosen Matematika dan Pendidikan/ Tadris Matematika PTKIN (Ad-mapeta). This journal seeks to provide a venue for sharing new empirical research and theoretical analysis of intersections between mathematics and education.
Matematika dan Pembelajaran publishes original works that contribute to the scientific discussion of the relationship between mathematics instruction, mathematics, statistics, and mathematics applied. The journal's primary focus is on contemporary issues of the process of instruction, thinking, modeling. However, works on the issues of relevant content are welcome.
Submissions are welcome not only from scholars of mathematics education but also by lecturer and teacher. All submissions must not be previously published elsewhere. All submissions for publication are peer-reviewed double-blind.
View Journal | Current Issue | Register
MEDIASI
Jurnal Mediasi merupakan jurnal penelitian Dakwah & Komunikasi Penyiaran Islam yang dikelolah oleh Fakultas Ushuluddin & Dakwah IAIN Ambon, Mediasi terbit berkala 2 edisi/tahun dan telah mendapatkan ISSN 1858-0742
View Journal | Current Issue | Register
1 - 3 of 3 Items